Chemical Name: Methyl salicylate; Methyl 2-hydroxybenzoate;
Other names: Wintergreen oil; Gaultheria oil; Betula oil
Formula: C8H8O3
CAS No: 68917-75-9;
Molecular weight: 152.14700
Molecular Structure: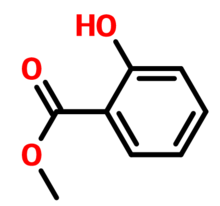 Density: 1.181
Boiling point: 219ºC
Refractive: 1.535-1.538
Methyl salicylate is an organic ester naturally produced by many species of plants, particularly wintergreens. It is also synthetically produced, used as a fragrance, in foods and beverages, and in liniments.
Uses
This product is used to treat minor aches and pains of the muscles/joints (e.g., arthritis, backache, sprains). Menthol and methyl salicylate are known as counterirritants. They work by causing the skin to feel cool and then warm. These feelings on the skin distract you from feeling the aches/pains deeper in your muscles, joints, and tendons.
Some products should not be used on children younger than 12 years without a doctor's advice. Check the label carefully before using on children between 2 and 12 years old.
Specifications:
Methyl salicylate / Wintergreen oil

Appearance

Colorless or pale yellow liquid

Appearance of solution in ethanol

Clear

Assay %

99.0-100.5

Moisture % ≤

0.1

Acidity value(ML)[0.1 NaOH]/5.0G ≤

0.4

Relative density@25℃

1.180-1.185

Refractive Index

1.535-1.538

Heavy metal (ppm) ≤

20

Angular rotation

Optically inactive