Chemical Name: Methylparaben, Methyl 4-hydroxybenzoate
Other names: Benzoic acid, 4-hydroxy-, methyl ester; Benzoic acid, p-hydroxy-, methyl ester; p-Carbomethoxyphenol; p-Hydroxybenzoic acid, methyl ester; p-Methoxycarbonylphenol; Abiol; Maseptol; Methaben; Methyl chemosept; Methyl p-hydroxybenzoate; Methyl Butex; Methyl Parasept; Methyl 4-hydroxybenzoate; Methylben; Metoxyde; Moldex; Nipagin; Nipagin M; Paridol; Preserval; Preserval M; Septos; Solbrol; Solbrol M; Tegosept M; 4-(Methoxycarbonyl)phenol; 4-Hydroxybenzoic acid, methyl ester; Aseptoform; Metaben; Methyl ester of p-hydroxybenzoic acid; Methylester kyseliny p-hydroxybenzoove; Methyl parahydroxybenzoate; p-Oxybenzoesauremethylester; Lexgard M; NSC 3827; Paraben M; Metagin; Solparol; Preserval MS
Formula: C8H8O3
CAS NO.:99-76-3
Molecular weight: 152.1473
Molecular Structure: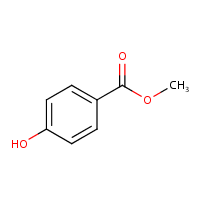 IDENTIFICATION AND USE: Methyl paraben is a methyl ester of p-hydroxybenzoic acid. It is a stable, non-volatile compound used as an antimicrobial preservative in foods, drugs and cosmetics.
Methylparaben has antibiotic and anti-fungal properties that protect a number of different consumer products against microbial growth. Despite recent controversy concerning its safety, Methylparaben continues to be used as a preservative, today.
Cosmetics
Methylparaben is widely used as a preservative in various cosmetic products. It is typically found in combination with other parabens, such as propylparaben and butylparaben to provide a broad spectrum preservative effect. Cosmetics that contain methylparaben include makeup, hair care products, moisturizers and lotions, shaving products and toothpastes.
Pharmaceuticals
The preservative effects of methylparaben also protect pharmaceutical products from contamination by microorganisms. Topical antibiotics, preparations of corticosteroids, ophthalmic medications, herbal preparations, parenteral solutions and other pharmaceutical products use methylparaben. Even certain antibiotics, such as aqueous penicillin, are protected from fungal contamination with methylparaben.
Foods
Because methylparaben is an effective inhibitor of molds, yeasts and other microorganisms that commonly grow on food products, it is frequently used as a food preservative. Methylparaben may be found in baked goods, creams and pastes, jams and jellies, syrups, processed vegetables, oils, seasonings, dairy products, and beverages. Methylparaben is frequently used to inhibit the growth of the bacteria Clostridium botulinum, which can cause the often fatal illness of botulism.
Sepcifications:
Methyl Paraben / Methyl 4-hydroxybenzoate

Appearance

White or off-white powder

Appearance of solution in ethanol

Clear

Hazen Color(10% as is in Ethanol) ≤

50

Acidity (ml0,1M NaOH/5g) ≤

0.1

Melting point ℃

125.0 - 128.0

Assay %

99.0-100.5

Moisture % ≤

0.5

Related Substances Total % ≤

1.0

Sulphated Ash %≤

0.1

Residual solvents: Methanol (ppm) ≤

1000

Total viable count (cfu/g)≤

10

Heavy metal(Pb) ppm≤

10

Phenol content (ppm) ≤

10

Particle size

max.10% >300μm