Chemical Name: 1,4-Butyrolactone; gamma-Butyrolactone
CAS NO.: 96-48-0
Molecular Structure: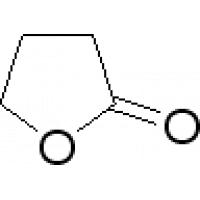 Properties:Gamma-butyrolactone is a non-toxic transparent liquid in the shape of oil. It can be mixed with water and dissolved by ethanol, ether, benzene and acetone. It can dissolve many other organic and inorganic compound. The using of Gamma-butyrolactone is very safe and convenient, because it is a liquid with high boiling point, powerful solvency, good electrical and stability properties.

Usage:Gamma-butyrolactone is an important organic synthetic raw material and a fine solvent. It is mainly used as synthetic pyrrolidone series products cyclopropylamine acetyl-r-butyrolactone, Besides these, Gamma-butyrolactone is also used as solvent for agricultural chemicals, polymer, dyestuff and printing. Using Gamma-butyrolactone as raw material, we can produce aromatic chemicals, medicinal intermediates and rust remover.
Package:Galvanized iron drums of 200Kgs net weight

Storage and Transport:Keep it in shady, cool and ventilation warehouse, far away from fire and heat source, separate from oxidizer. Be cautious of loading and unloading. Prevent package form damage. Avoid leakage.
Specifications:
GAMMA BUTYROLACTONE

Appearance

Colorless liquid(Above 25℃)

Purity %(m/m)≥

99.5

Moisture % ≤

0.1

Density 20℃

1.029-1.040

Colourity (APHA) ≤

25

Refractive index

1.4680-1.4700