Chemical Name: Sodium Hydrosulphite (Sodium Hydrosulfite)
CAS No.:7775-14-6
Mol. Formula: Na2S2O4
Molecular Structure: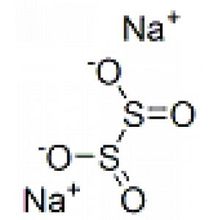 Properties: The bulk specific weight is 0.7-1.0g/m3 , dissolve in water, slightly dissolve in ethanol. Give off heat and cause combustion easily. Spontaneous decomposition occurs when the temperature is higher than 85ºC, heats up to 190ºCcause detonation. Self-ignition point is 250ºC.


Sodium Hydrosulphite

88%

90%

Appearance

free-flowing white crystalline powder

Content % ≥

88

90

Water insoluble %≤

0.1

Sodium thiosulfate: Na2S2O3 % ≤

1.2

Sodium metabisulfite:Na2S2O5 % ≤

5

Sodium bisulfite: NaHSO3 % ≤

0.4

Sodium carbonate: Na2CO3 %≤

0.6

Zn %≤

0.00008

Fe %≤

0.05