Chemical Name: PVP VA64 / Copovidone
Copovidonum
INCI/CTFA: P
VP/VA Copolymer
Production description: Copolymer of 1-vinyl-2-pyrrolidone and vinyl acetate
Molecular formula: (C6H9NO)n(C4H6O2)m
CAS NO.: 25086-89-9
Molecular Structure: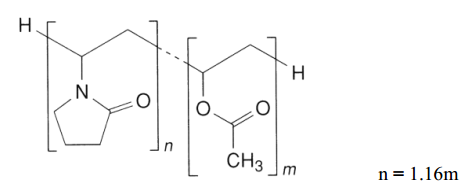 Copovidone is a copolymer of 1-vinyl-2-pyrrolidone(N-vinyl-2-pyrrolidone, NVP) and vinyl acetate at the ratio of 60:40(in weight).
The content of Nitrogen in copovidone is between 7% and 8% and the content of vinyl acetate is between 35.3% and 42%.
Applications: Copovidone has been widely used in pharmaceutical formulations for decades as a tablet binder and film former. Most commonly, copovidone is used as a binder in direct compression and dry granulation applications.
Copovidone is chemically compatible with most organic and inorganic pharmaceutical ingredients (1). For solid-dispersion applications, both monomer units are capable of accepting hydrogen bonds stabilized through carbonyl acetate groups and carbonyl pyrrolidinone groups.
Copovidone is readily soluble in multiple organic solvents, including acetone, dichloromethane, methanol, ethanol, and mixtures, thereby making it ideal for preparing spray-dried dispersions. This copolymer remains chemically and physically stable in various organic solutions for several days. For spray-drying applications, the relatively high glass-transition temperature of copovidone (106 °C) aids in producing desired particle size and bulk-density powders with good product yield. Furthermore, the lower glass-transition temperature of the material as compared with the homopolymer povidone makes it ideal for melt-extrusion processing. Copovidone has been processed in melt-extrusion application at temperatures in excess of 180 °C without visual degradation (2). Typically, plasticizers are not necessary for melt-extruding solid solutions with copovidone but they can be used if necessary. One limitation of copovidone is its hygroscopicity, which can weaken solid-solution stability in humid environments. This concern, however, can be overcome with proper packaging and storage.
Package: Fiber barrel packaging, 25Kg

Storage: Keep it in dry and ventilated place.
Sepcifications:
COPOVIDONE / PVP VA64

Appearance

White or off-white powder

Moisture % ≤

5.0

K value

27-32.4

Monomers % ≤

0.1

Nitrogen Content %

7.0-8.0

Ash (sulphate) % ≤

0.1

Aldehyde ppm ≤

500

Hydrazine ppm ≤

1

Peroxide(As H2O2) ppm ≤

400

2-pyrrolidone %≤

0.5

VA %

35.3-42

Heavy Metals ppm ≤

10